News and Updates from Summit
While we have supported Architects & Builders for many, many years, this past year, we have taken that support up quite a few notches. We now have a Design Engineer on our staff specifically tasked with helping Architects and Builders go from concept to full-on CAD integration with our automation systems incorporated into your designs. This takes all the guesswork out of your future build.
Also, within the last year, we redesigned our website, and Architects and Builders were top-of-mind during the entire process. We added even more information than we already had, and it is easier to find what you need to know.
Under the "Solutions" section of our website, you'll learn what sets us apart and makes us rise above others in the industry, including the safety specifications our systems adhere to, our innovative features, and the various components and configurations available.
The "Working with Summit" area has a specific category just for Architects and Builders. There you'll find how we offer 24-hour support for you, training at our state-of-the-art facility, and product demonstrations at your location. In addition to our multi-slide and pivot automation solutions, we also have flyers available on Lift N Slide, sensors, control options, home automation connection, and motion sensors – it's all right there at your fingertips.
"Resources and Support" has FAQs that will certainly help when discussing automation options with the homeowner, news and articles that we have published, and useful information about troubleshooting and Summit's warranty. While we have a YouTube channel also, we added videos to this section of our website, organized into product categories so you can easily and quickly view them.
In the next article of this newsletter, we chose a few specific examples to share how we assist Architects and Builders. At Summit Automation, we value the partnerships we have with you, and have made it our mission to provide the information, tools, and support you need to Bring Doors to Life!

Working with Architects and Builders
Providing superior care to the various types of Customers we have is paramount at Summit Automation. Below, you'll find some detailed instances of how you can take advantage of the knowledge and support we offer our valued Architect and Builder partners.
UL325 Certification – In order for Architects to have the utmost confidence when they specify our system into designs, Summit spent almost 3 years taking our products through the required testing to be allowed to label our system with the UL 325 designation. This unique mark is only granted to a company's products that have passed all levels of testing and quality standards. By placing a certified system from Summit within your designs, as an Architect or Builder, you have certain guarantees that you and your compliance team will appreciate. UL 325 certification requires quarterly audits of our manufacturing processes and quality standards. We have successfully passed every audit without any negative findings whatsoever. The UL 325 designation, and our repeated and ongoing positive audit results, helps assure that when you stipulate our products into your designs, you do so without worry of fire, shock, performance issues, crush hazards, quality concerns, and durability worries.
Architects – Simply email us your elevation drawings, floor plan, and door cut sheets (if you have them) prior to finalizing your plans, and our support team will review them and recommend the best solution for your applications. Leaving this decision up to your door dealer is too late in the process will prevent you from optimizing your designs while supporting your end Customer (the Homeowner). The customary response time from our team is within just one business day. Try us on your next project – we think you will appreciate the experience.
Builders – Working on a new or existing project? Contact us by email or phone at 480-500-5468 today to learn how our automation systems can take your build to the next level. We not only have the ability to support all multi-slides, lift and slides, patio sliders, barn doors, top hung doors, and pivot doors, but we do so by providing you a complete automation solution with state-of-the-art controls and total flexibility to control your door speeds. Simple preparation items could also help reduce your overall costs to automate:
Header prep – Ensure your framer places the crown of the header on top. Too many times, the header is concave instead of convex when installed. Additionally, when your structural engineer evaluates the rough opening (RO), rounding up to the next higher strength beam is an excellent safety margin you will be thankful for in the years to come. Coming back on-site due to header sag is always costly in both time and money. We believe "A few ounces of prevention…" (as the saying goes) is better for our Builders and their clients in the long run.
Sill Prep – A perfectly leveled sill with proper support beneath will allow the door system to roll smoothly for its life.
Alignment – When the home shifts under load, it can cause a camber effect (positive and negative). To help counter this, it is always best to load the rough opening to its fullest (roofing tiles, ceiling or second floor drywall, etc.) prior to installing the door systems.
Pocket size – Due to camber effects, the best door installations have long-term success by expanding the width of the interior of the pocket – from interior to exterior – by ½" on both the interior and exterior sides of the panels. By planning for this, a side benefit is on day one of the door system installation, the weather seals are at their most rigid stage & size. Over the coming years, the seals will become more pliable and conform to the opening.
Motor locations – All too often, as the Builder, you are required to make what is designed; however, you do have flexibility around the doors, possibly ensuring a stud bay is available either to the left or right of the RO, which allows for the easiest placement of the motor. There will be times (such as a glass curtain wall, concrete structure, or steel posts) when this will not be possible. When this is the case, contact us and we will be happy to provide an alternative motor placement for your specific application. We have several alternative motor configurations, all certified and guaranteed for performance, which will automate
In addition to motor placement and RO prep, Summit Automation also offers the most comprehensive list of controls and options to operate your doors. We even offer custom controls around your specific application, thanks to having our own Electrical and Software Engineer on staff. No two Customers are alike, just like no two homes are alike; therefore, providing both the Architect and the Builder with custom options around your needs is not only a necessity, but a source of pride for our team as well. We look forward to your design challenges and working closely with you!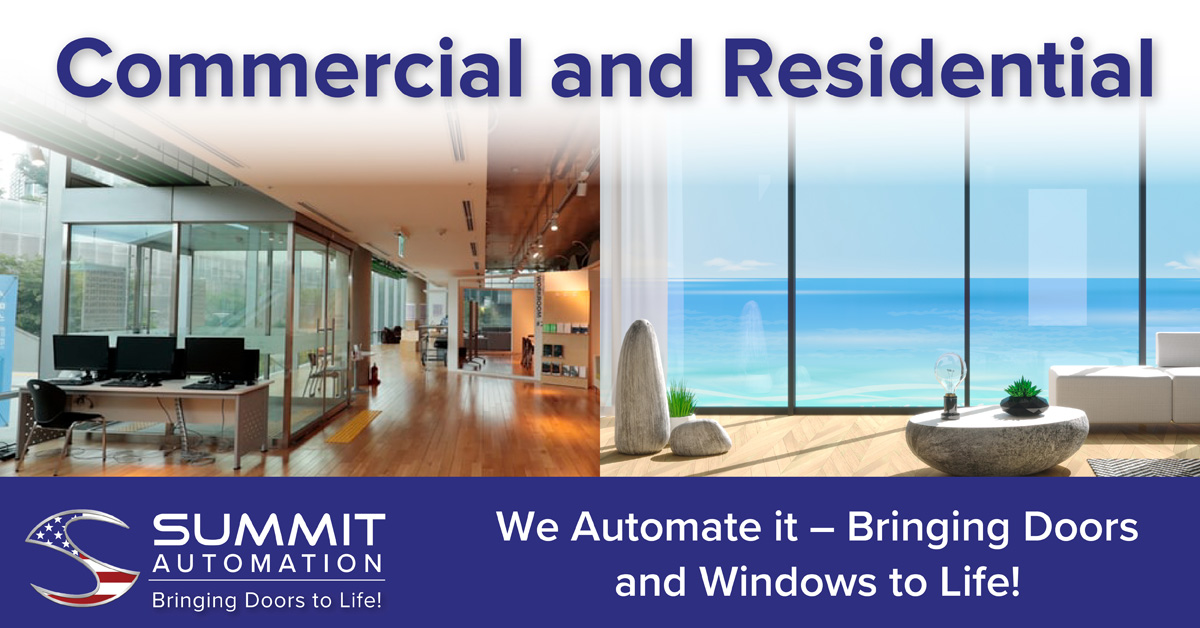 Top 5 Architects in TV and Movies
Architects have been characters in the movies and on television for decades. In fact, some of the most beloved stories to hit the silver and small screens have featured them! Here are a few of our favorites.
Howard Roark in The Fountainhead – Ayn Rand's "The Fountainhead" was made into a movie released in 1949. Howard Roark, a principled, uncompromising architect, was played by Gary Cooper. He declined to make concessions when it came to his integrity and artistic concepts and believed he should be credited with his designs. "I am an architect," he exclaimed toward the end of the film, "and my ideas are my property."
Melanie Parker in One Fine Day – Michelle Pfeiffer starred and executive produced this flick about a single day in the life of her divorced character, a single mother to her young son, Sammy. The morning starts out with the pair running late for school, then meeting up with Jack (George Clooney) and his daughter, Sammy's schoolmate, where fate takes over and they spend the day together.
On the way to the children's soccer game, Melanie must make an important presentation to architectural clients in front of her boss, who are all conveniently seated at a table right in front of a picture window where Jack and the 2 kids outside are intent on making her laugh. She admits to the clients that she has a soccer game to get to and receives understanding responses instead of the firing she anticipated.
Mike Brady in The Brady Bunch – Everyone's favorite TV father of a blended family, Mike Brady, was played by Robert Reed (TV) and Gary Cole (movies). His occupation was mentioned or featured in scenes frequently, with him often working from the den at home or arriving home with his briefcase in his hand and rolled-up blueprints under his arm. Highly-principled and respected at the architecture firm where he was on staff, the character was fired when he declined to remove costly safety features as requested by a building contractor looking to save money on a project.
Ted Mosby in How I Met Your Mother – This sitcom unfolded over 9 seasons the story of how Ted met the mother of his children. He worked on numerous projects in the New York City area, including a skyscraper, remodeling of some landmarks in the metropolis, and even taught architecture as a professor for a period of time.
Originally, Carter Bays, the show's creator, made Ted an archaeologist, but writing to include the character's profession proved difficult, so his career was changed to architect.
Sam Baldwin in Sleepless in Seattle – Tom Hanks has had a career spanning over 40 years, and one of his most iconic roles was the widowed Seattle-by-way-of-Chicago architect Sam Baldwin in this 1993 movie. Critics gave the film positive reviews, and it remains a favorite romantic comedy of genre fans even now, almost 30 years later. It was up for 19 awards, and while Sam's occupation didn't play a very large part in the plot, since 8 of the nominations were for the screenplay or the movie itself, every component of the story seemed more than worthy.
We recently held another training class, and we have added these new MMR candidates to the field. Thanks for coming out to learn from Summit Automation! Feel free to register with your Territory Sales Manager for either a group training session or your personal team's training session. We like to have 3+ trainees in each class but we can accommodate around your needs. The training classes are four hours of education, followed by four hours of hands-on training/installation.