News and Updates from Summit
We were very excited to attend the IBS Show in Orlando in February! Three of our motors were being demonstrated, including two recently released configurations. Partnering with several OEMs who were showing their doors and windows, their booths went next-level with our motors powering their automated displays. It was a very busy show, with a lot of attendees. Thank you to the IBS Show organizers, to all of our current Customers for stopping by to see us, and to those who expressed interest in including our automation solutions in their upcoming projects.
Our company had an amazing start to this year. Even though we are incredibly pleased with our success, being a veteran-owned and operated company, we can't help but be full of sorrow for the people of Ukraine.
We're sure you join the Summit Automation team in our prayers for a swift conclusion of the conflict and a rapid revitalization of the country and its strong, resilient, remarkable people.
We wish you the best in the 2nd quarter of 2022, and look forward to updating you on our company next quarter!

The Growth of the Window and Door Automation Sector
Over the past 20 years, we've seen a growing trend in automating doors and windows in homes. This trend is still developing rapidly due to several factors – chief among them are the steady movement towards home automation and 'smart homes', the popularity of bigger and heavier windows and doors, and advances in automation technology and controls (including voice command software). Automating windows and doors offers many benefits to the building and business, or homeowner and occupants, depending on where they are installed.
Convenience And Accessibility Increase
There's no doubt that anyone with their hands full, whether carrying suitcases, groceries, or their children, appreciates an automated door.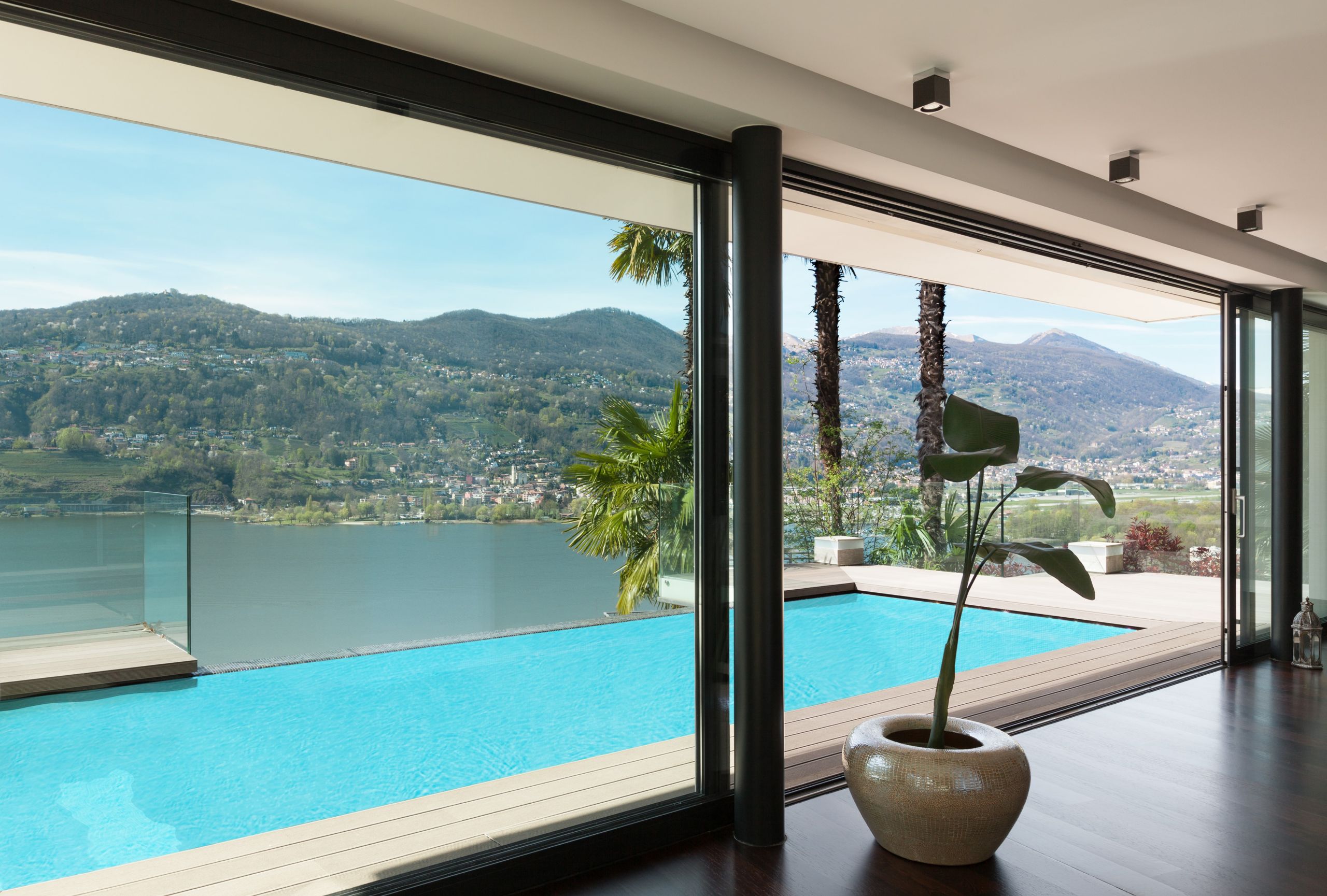 So do parents with strollers, those with physical limitations (such as needing a cane to steady their gait), and us modern folks who carry a device in one hand and a latte or espresso in the other. Automating a door makes it much easier for any one with these normal, everyday life occurrences to enter or leave a building, without worrying about a heavy door to maneuver and hold open to allow passage.
Security Improves
A security team can remotely control doors, allowing access to only those who belong in the building, in addition to denying access to anyone who doesn't. If a building needs to be vacated due to an emergency situation, doors can be automatically held open for faster evacuation to safety.
Hygiene Concerns Are Addressed
Automatic doors are operated hands-free, which gives an advantage to any facility where sanitation is essential (like medical centers and food production facilities). An air-tight, automated door can help inhibit dirt and dust from entering, due to the internal area's increase in air pressure. Surgery suites and environmentally controlled laboratories are ideal candidates for door automation.
Space And Energy Are Saved
If space is tight, consider installing automation on doors. Sliding or telescopic options eliminate the floor space a swing door needs. Also, only necessary opening of doors will happen, and they will close once the passenger has walked through, saving energy and keeping the building's interior, comfortable temperature steadier. The rate at which the door opens is important too, as the less time open, less energy and climate control will be lost.
Easy Use and Maintenance
Quality, safety, and reliability are top concerns for Summit Automation, as are simple maintenance and controls. Once installation is complete, our systems require very little effort to maintain. Although unlikely, should any issues arise, take comfort in knowing support is a simple phone call or email away.
The First Impression Will Be a Modern and Lasting One
How many times have we all heard how important first impressions are? With a modern, automated entrance door, you're sure to impress upon visitors your commitment to convenience and accessibility, as well as an eye toward the future, style, accessibility, and safety.
Summit Automation has been at the forefront of window and door automation for many years. We invent, design, and manufacturer the world's foremost automation systems, perfect for those who want nothing but the best. If you have questions or need additional information, we'll be happy to speak with you.
In addition to motor placement and RO prep, Summit Automation also offers the most comprehensive list of controls and options to operate your doors.  We even offer custom controls around your specific application, thanks to having our own Electrical and Software Engineer on staff.  No two Customers are alike, just like no two homes are alike; therefore, providing both the Architect and the Builder with custom options around your needs is not only a necessity, but a source of pride for our team as well.  We look forward to your design challenges and working closely with you!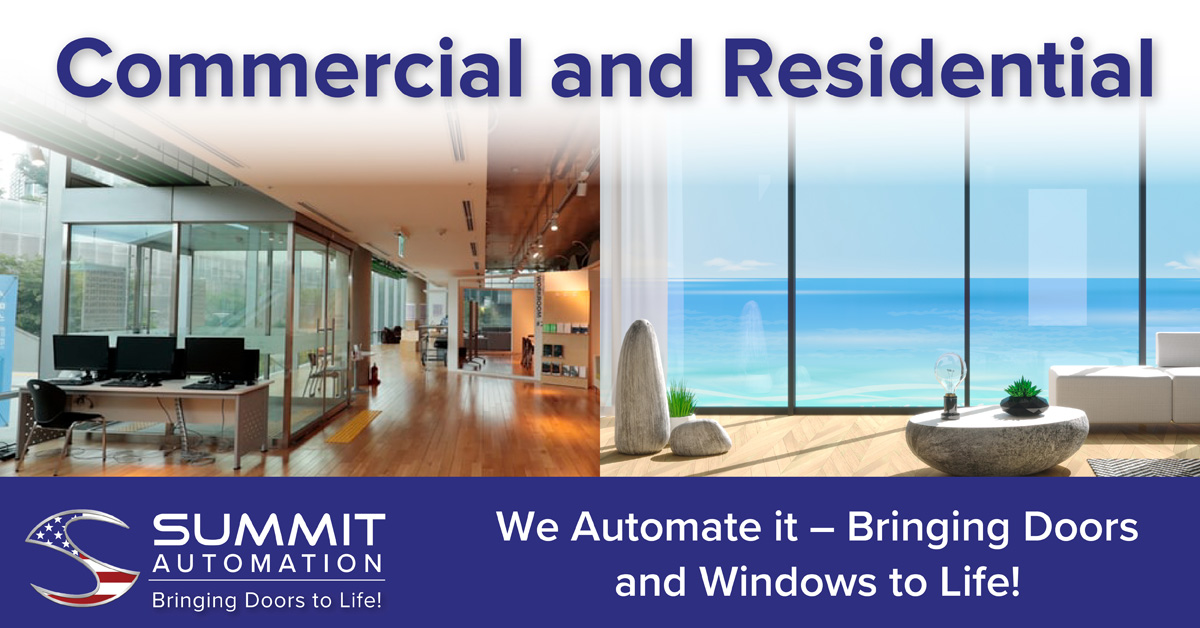 March 19th – National Automatic Door Day
Yes, there is a National Automatic Door Day! And why? Because in addition to the benefits mentioned in our "The Growth of the Window and Door Automation Sector" article this month, automated doors are just plain cool, and awesome, and impressive! So are automated windows!
You may not even give a thought (much less a second thought) to the automated doors you have encountered in your life, but you certainly have come across them before. Let's imagine if the doors to your local supercenter or favorite grocery store were not automated…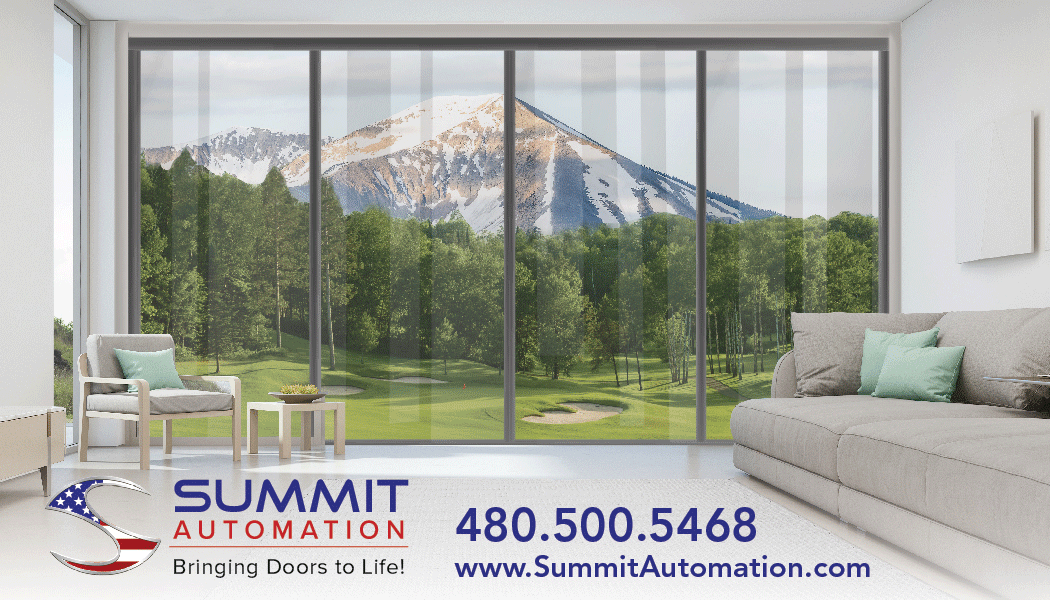 Entering the retail establishment might not seem like much of an inconvenience, but somehow, you'd have to put pressure on the door to enter, be that from your back, foot, elbow, or hand. The past few years, we've been trying to avoid catching or bringing into our homes a very contagious virus. With automation, the doors open when you approach, eliminating the need to touch them at all, as well as the possibility of something unsavory meeting up with your hands, shoes, or clothing covering your body, which could then be brought into your house.
When your hands are full and not a single person is there to help you, what can you depend on to make it easier to enter or leave through a door? Automated doors, that's what! And let's remember that includes push or wave plates, and doors that can open homes to their visitors using solutions like Summit Automation provides.
Even though 2022's National Automatic Door Day is behind us, you can still acknowledge it by being consciously aware of automated doors or windows whenever you encounter them, and appreciating how the technology behind them helps keep all of us safer and brings convenience to our lives.