News and Updates from Summit
For this quarter's newsletter, we are focusing on our door and window manufacturers / OEM partners. It's now a trend to automate doors and windows, and that's part of the reason why we have developed a robust program with our partners. The benefits of both those relationships and the automation solutions we provide – from safety to convenience – are features that each of our Customers truly appreciate and find value in for as long as they are in their homes.
We always keep in mind the cost of automating doors and windows, and while some in the industry have increased prices during the COVID-19 pandemic, we have managed to keep our prices lower than other alternatives.
Summit has been able to drive down the cost of overall ownership through various methods. For more information on how we are able to keep our costs down and pass these savings onto our Customers, watch our 3rd Quarter 2021 Update video.
To further support our OEM partners, we'll be at the International Builders Show taking place in Orlando, Florida from February 8-10, 2022. Just look for us in the Summit Automation shirts!
We have some exciting announcements coming up in the near future that we'll be sharing on social media. Follow us here so you don't miss any! Facebook, Twitter, Instagram, LinkedIn, and YouTube.

Working with Manufacturers
At Summit Automation, we know our business wouldn't be as successful as it is today, or continue to grow, without our OEM partners. We have several goals when it comes to working with them:
Drive Down Total Cost of Ownership For Automating Doors
To meet this objective, we recommend the doors be prepared at the factory, or as a minimum, by the installers prior to installation. We have several time-saving methods to drive down installation time. Contact us for further information.  In this endeavor, we recommend jamb belt path routing, custom corner keys, and pre-drilling both the return pulley location and the turnbuckle assembly (and tap and drill the trailing edge of the lead panel as well, or even route out the connector bracket for a smooth installation).
We also pride ourselves in developing door-specific kits and accessory packages that are appropriate for the exact system application for each door. Many of your certified door installers are also certified by us to be the automation solution installer, which saves our Customers money and decreases the time it takes to install systems. There's no denying that our industry has been affected by raw materials price increases due to COVID-19, but we maintain our pre-pandemic pricing by leveraging technology and innovation.
Partner With Door & Window OEMs On Several New Cutting-Edge Applications
As we mentioned before, door automation is not just "in style", and as it becomes more mainstream, our Customers will expand the use of it within their homes. This is why, in collaboration with our OEMs, we are constantly developing new solutions which will meet the changing requests of the marketplace.
Very large door systems (greater than 10,000 lb. doors) have been challenging for some in our industry to apply automation to while ensuring smooth operation. Through our ongoing research and development, we have a motor that solves this issue. On the opposite side of the size spectrum, we offer a much smaller motor package, even down to just 1-1/2" x 1-1/2" x 9" tall, that automates smaller door systems. Other cutting-edge applications, created with the input and expertise of our OEMs, include those used for pocket door systems, pivot door systems, and window systems.
Components Manufacturing
Did you know that we produce over 200 unique part numbers to support our various automation systems, in addition to custom door manufacturer parts to meet their applications? We have a full machine shop under our very own Summit Automation roof! We are proud to say 90% of the components that go into our systems are made within our in-house factory, and the remaining 10% are sourced sensibly here in the US.
We shy away from international suppliers that provide sporadic deliveries – a problem that became painfully evident during the height of the COVID-19 pandemic, and still ongoing today. While it's true that offshore sourcing provides slightly better costs, when you couple those costs with current import duties, shipping costs, and inevitable delays in receiving orders from them, the savings are just not worth it. Our Customers deserve better, and we're able to provide the vast majority of parts ourselves.
Summit uses aerospace-grade raw materials because performance matters in window and door automation, and we believe that these time-tested and trusted materials are the only way to go. They do cost more, but their reliability and lifespan justify the expense.
UL325 Certification
We are the only US-based automation company that provides multi-slide door UL certification as a system. Others claim they have UL components, but it is just that – components – as their company itself has never gone through the rigorous testing required by the UL labs.
Our systems went through 14 different tests taking over 2 years to perform at a very expensive cost to obtain the certification, but every penny was worth it to insure the door manufacturers' liability is limited in the rare case of an issue. Let's face it – these are big doors with a lot of mass moving with kinetic energy. If you do not have a certified system in place like we do, many things can and do go wrong resulting in doors, tracks, and sills being damaged, not to mention homes being damaged, and potentially the automation system as well, along with possible operator incidents. Going through the 14 tests, which included performance testing as well as crush testing, provides a level of peace of mind that helps us all sleep at night.
We also have the testing facilities here on site to erect one of your test doors, and we are capable of performing cycle testing for endurance as well at automation testing for force limits. With our staff of four engineers on site, we can handle the most challenging projects, but we also partner with ASU Polytech school on Capstone projects. This allows us access to up to 16 additional engineers along with faculty and staff from ASU.
Our commitment to be the best automation company for windows and doors means we are constantly evolving. The Customers we serve deserve the absolute finest products we can offer, and by working together with our OEMs / door and window manufacturers, we are able to do exactly that.
In addition to motor placement and RO prep, Summit Automation also offers the most comprehensive list of controls and options to operate your doors.  We even offer custom controls around your specific application, thanks to having our own Electrical and Software Engineer on staff.  No two Customers are alike, just like no two homes are alike; therefore, providing both the Architect and the Builder with custom options around your needs is not only a necessity, but a source of pride for our team as well.  We look forward to your design challenges and working closely with you!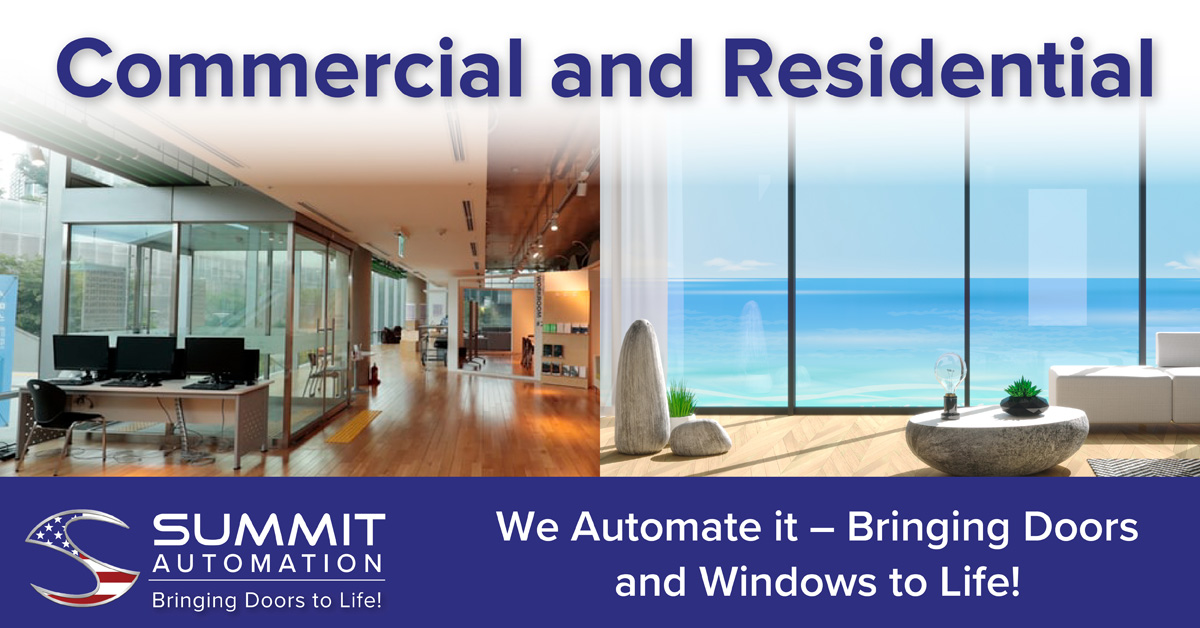 Childhood Injury Prevention
Summit Automation's Customers install our systems for many reasons, convenience and safety among them. September is National Baby Safety Month, and the first week in September was National Childhood Injury Prevention Week. We thought it would be a good time to remind our readers of some of the safety features of our automation solutions.
Babies and children like to explore, and often don't let anyone know when they intend to do so. Probably one of the scariest things anyone who cares for a child can see is the front door to the house or an upstairs window wide open, and the kids are nowhere to be found and no responses are heard when frantically calling their names. It's a scenario no one wants to even think about.
With our automation systems, your windows and doors can be locked using the control keypad, and when this feature is enabled, the keypad must be used to unlock them as well. Our motor also acts as a secondary locking system for pool safety (thanks to our integrated brake), and keypads can be secured.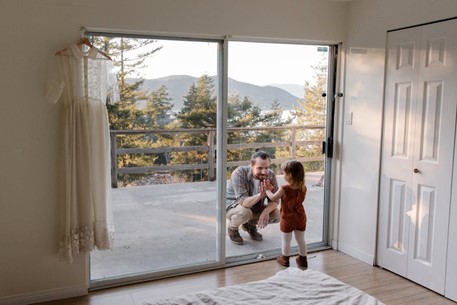 A potential concern for parents or soon-to-be parents might be an automated door closing on their child if the young one happens to be sitting or standing on the door track. Were this to happen, their little hands or feet could get caught under the door (or an item of the clothing they are wearing), which could result in crush injuries. Summit's solutions for automation have a built-in resistance monitor that senses when an obstacle is preventing the door from closing smoothly. While it's always recommended to teach your children how the doors work and avoid such a situation altogether, we know that kids will be kids, which is why we make sure our systems have protections in place to help prevent accidents.
September also hosts National Construction Appreciation Week, which is the 3rd full week of the month. Summit Automation would like to extend our thanks and gratitude to this segment of America's workforce!
We held another training class recently, and we have added these new MMR candidates to the field. Thanks for coming out to learn from Summit Automation! Feel free to register with your Territory Sales Manager for either a group training session or your personal team's training session. We like to have 3+ trainees in each class but we can accommodate around your needs. The training classes are four hours of education, followed by four hours of hands-on. training/installation.