We'd like to welcome you to one of the most exciting quarterly updates we've shared in all of our newsletters! In this edition, you'll learn about the exciting and groundbreaking innovations we've been able to achieve at Summit Automation. We have a constant focus on developing new technologies to handle today's current and tomorrow's upcoming challenges in the world of door and window automation. We invest considerable resources into research and development to provide solutions when others believe 'it just can't be done'.
One of our newest technology releases involves our very first garage door system that automated panels which rotated around a 90° corner then tucked into a false wall. This project was installed in The Hamptons, a very high-end area on the east end of Long Island, New York. We've got to give a huge shout-out to our MMR (Master Manufacturer Representative) out there – what an incredible job they did!
Another MMR in the Midwest is helping us lead the way when it comes to automating screen doors. Near our headquarters in the Phoenix, Arizona area, we are working with a door manufacturer to automate a very large tilt-up window. How big, you say? Make sure to watch our quarterly update video to find out!
Another innovation from Summit Automation is our recently-launched Lift-N-Slide option. We were able to accomplish this through working closely with an OEM partner. In addition, as you may know, the previous version of our voice command module worked perfectly with Alexa and Google. We are proud to announce that not only has it been compacted, but now it also works with Apple as well!
Our engineers are constantly working on our automation technology. They strive to not only meet what our Customers want today, but to anticipate and prepare for what will be requested tomorrow and beyond. Because we design, manufacture, and test in-house every single automation solution we offer, we are able to quickly and efficiently make products that exceed expectations.
As you can see, we have some amazing technology updates to share as of this quarter. We also have seen the trend of our business growing every quarter, and we would like to recognize our Customers, OEM partners, dealers, installers, MMRs, and the entire network in which we work. Thank you all for continuing to rely on us for the door and window automation solutions you want and need. To our Summit Automation Associates, thank you for your continued passion and commitment to making available the absolute best products and automation solutions possible!
As always, we appreciate your support and trust in our company and products. We are honored to be the company you turn to when you want door and automation solutions that you can trust.

Bring Windows and Doors to Life
by Kaitlyn Beickel, ICONIC Life Magazine
Very large, beautiful doors and windows have become a highly sought after design element in today's modern homes and businesses, appearing in luxury spaces around the world. While a 12-foot or taller door makes a statement, when it's time to leave, it can be a challenge to move the sheer weight of something that large quickly. So, what if your door could automatically open for you instead?
Recently, Summit Automation has been featured in ICONIC Life Magazine
The Largest Pivoting Glass Doors in the World
There's no doubt about it – glass doors add elegance to any space. When those doors are automated though, it takes them to a whole different level of style and sophistication. Where are the most incredibly beautiful, amazingly engineered, record-breaking, supersized glass pivot doors found?
US Bank Stadium, Home of the NFL's Minnesota Vikings (Minneapolis, MN USA)
In 2016, downtown Minneapolis saw the opening of US Bank Stadium, the new 73,000-seat venue that would host the Vikings' home games and numerous other public and private gatherings. A tour of the facility is even offered. Thousands upon thousands of people have taken it already, and more do every year. While they walk through, they learn about the construction process and interesting factoids about the engineering feats required to build the stadium. The stadium is impressive as a whole, but the pivoting glass doors that welcome visitors really take the cake.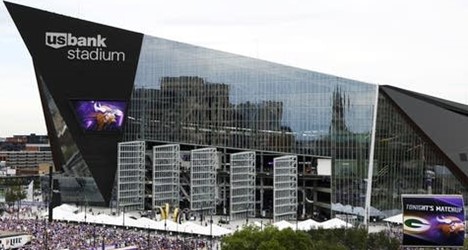 Here are some statistics about the incredible doors:
Largest pivoting glass doors in the world
5 total panels rotating on hydraulic pistons
Each panel is 55 feet wide by 75-95 feet tall
57,000 pounds was the weight of the first glass door delivered to the construction site
Total weight of all 5 panels is 40,000 tons
30,000 square feet of glass was used to make the 5 panels
Glass door panels were manufactured in Owatonna, MN (located about 1 hour south of the stadium)
Door frames were manufactured in Tennessee
It's no wonder engineers marvel at these doors and event organizers from around the world seek out US Bank Stadium! Check out these pictures, taken during construction and on an NFL game day.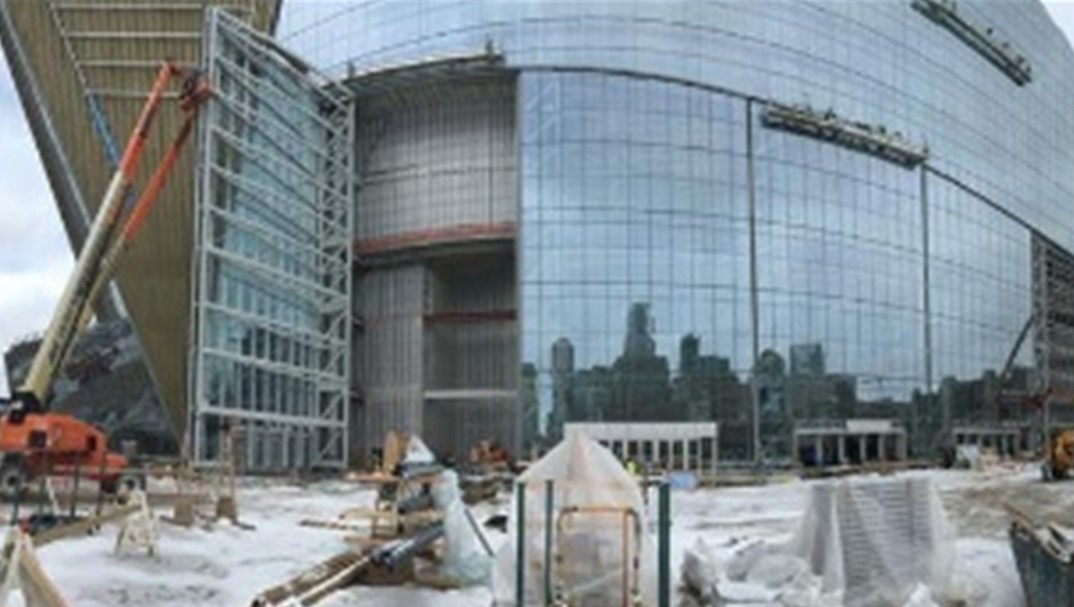 Next month, join us in Atlanta to see our automation solutions displayed by world leading window and door manufacturers at The Glass, Window, & Door Expo by GlassBuild America!