News and Updates from Summit
During one of our recent campaigns, we highlighted the various configurations our motors come in to automate your doors and windows. In fact, the video link we sent out was the most popular video we produced to date! You all have heard me talk about our company, products, Customers, etc. in the past… but, by far, we learned that you wanted to see the applications of our products and the various configurations. We provide the following solutions for various applications through different configurations:
Each of the below configurations applies to a variety of door configurations (one way stacking, 90-degree, bi-parting, pocketing, pivoting, etc.)
Standard – Motor is located vertically within a stud bay immediately to the left or right of the door system.
Inverted – Motor is located upside down with an extension shaft. The drive shaft pulley is located in an either side smaller stud bay, or within the headtrack immediately above the door. This option does require a sizable soffit area for the motor location.
K2 – This ultra-sleek application allows for the motor to be installed horizontally above a glulam or within the webbing of the I-beam immediately above the door near one end or the other. This application is perfect for when you have a glass curtain wall on both sides of the door system along with a window transom above the door. The motor tucks in nicely, and is super quiet and extremely strong.
Pivot – The motor is located horizontally either immediately above the pivot door within the top frame, or above the top frame inside the soffit area above the door.
Skylight – This application is used for a retractable, slanted window or door system upon the roof top to allow roof access via a stairway. The eastern seaboard is commonplace for this application, where homeowners have very limited yard/garden area.
Pass-Thru Window – This is a popular application for indoor/outdoor counter spaces, which allows for a retractable window (similar to the doors).
We have many more applications in our product development pipeline and look forward to highlighting those in the coming months.

Summit Automation Control Options, And How They Benefit You
Summit Automation has the best and most modern window and door automation controls in the industry. We strive to bring you the most advanced controls to fit your needs and all possible configurations.
At Summit Automation, we strive to pair our solutions with the best and most modern control options available. We bring you the most advanced controls to fit the needs and configurations for every possible situation.
Flexible Adjustable Speed Technology (FAST/+)
Our much-anticipated latest software that allows all our motor systems to enjoy a quick open feature thanks to our variable speed technology (VST) solution and allows for the motor to slow down as it picks up the next panel for a smooth but quick opening. In case you didn't know, all motors have the variable speed technology capability, however, it takes an expert to utilize this feature without causing harm to doors, homes, or persons. Summit is the UL 325 certified door automation system supplier in North America and is ETL Listed.
Summit Door Controller App
The motor has a Bluetooth chip mounted, which accepts commands from our Door Controller app (Google Play and IOS App store), which can control automation systems via smartphone or tablet.
9-in-1 Touchscreen
At just 2.5″ wide by 3.5″ high, our touchscreen is 90% LED glass, has timer functions, a custom backlight, and a proximity sensor. It can be put into camo mode, where it is essentially hidden, and is security enabled.
Voice Command Module (VCM)
Users can program the VCM (Voice Command Module) to program and operate their automated doors. By simply speaking to devices like Google Home, Alexa, ECHO, and ECHO DOT, homeowners can create routines and get the most out of their door systems.
Wall Switch Kits
Every system comes with a wall switch kit, which can open, close, stop, and unlock your doors – with the simple push of a button. It can also enable and disable Summit's self-close & auto-open, as well as FAST/+ speed control features. You can even enable a 4-digit security code. Wall switch kits are available in black or white, and both wired and wireless options. We recently released our 6-in-1 wall switch option, which provides timer functions for features, as well as a proximity sensor for hands-free opening.
Remote Fob Kits
The Remote FOB provides ultimate convenience, whether you're inside or outside. With a 75-foot range, the Remote FOB gives total system control.
Wave Motion Sensor
Our Wave Motion Sensor is the perfect hands-free solution, allowing you to open the door without even pressing a button. To operate the precision automated system, simply wave your hand in front of the sensor and the door will automatically open, and with an adjustable sensitivity, you are in control.
Control Box
The brains behind every Summit Motor, the control box offers features like FAST/+ or quick open by utilizing Summit's variable speed technology (VST). At merely 7.5" x 7.5" x 4.5", it gives installers flexibility to install – whether within the pocket or up to 100 ft away from the motor – in the data/AV/mechanical closet. The control box includes standard a lithium-ion battery back-up and plugs into a dedicated 15-amp standard 110v outlet while being compatible with all major home automation systems.
Exterior Tamperproof Keypad
The illuminated exterior keypad works great in any weather condition, and is completely waterproof. Entering the proper code will send an open signal to the control box and give you access from the exterior of the door unit. Its slim 2" x 7" frame looks great on any exterior application.
Head Track Motion Sensor (Wired/Wireless)
The Head Track Motion Sensor (T1) is an exterior motion sensor that is mounted center of the lead panel in track 2 with a customizable directional beam sensor cover. This sensor provides the end user the option of a hands-free entry, as well as a secondary safety feature.
Hidden Flush Mount Motion Sensor (Wired/Wireless)
The Hidden Flush Mount Motion Sensor (H1) is an interior motion sensor that is flush mounted within the soffit with a customizable directional beam sensor cover. This sensor provides the end user the option of a hands-free entry, as well as a secondary safety feature.
In addition to motor placement and RO prep, Summit Automation also offers the most comprehensive list of controls and options to operate your doors.  We even offer custom controls around your specific application, thanks to having our own Electrical and Software Engineer on staff.  No two Customers are alike, just like no two homes are alike; therefore, providing both the Architect and the Builder with custom options around your needs is not only a necessity, but a source of pride for our team as well.  We look forward to your design challenges and working closely with you!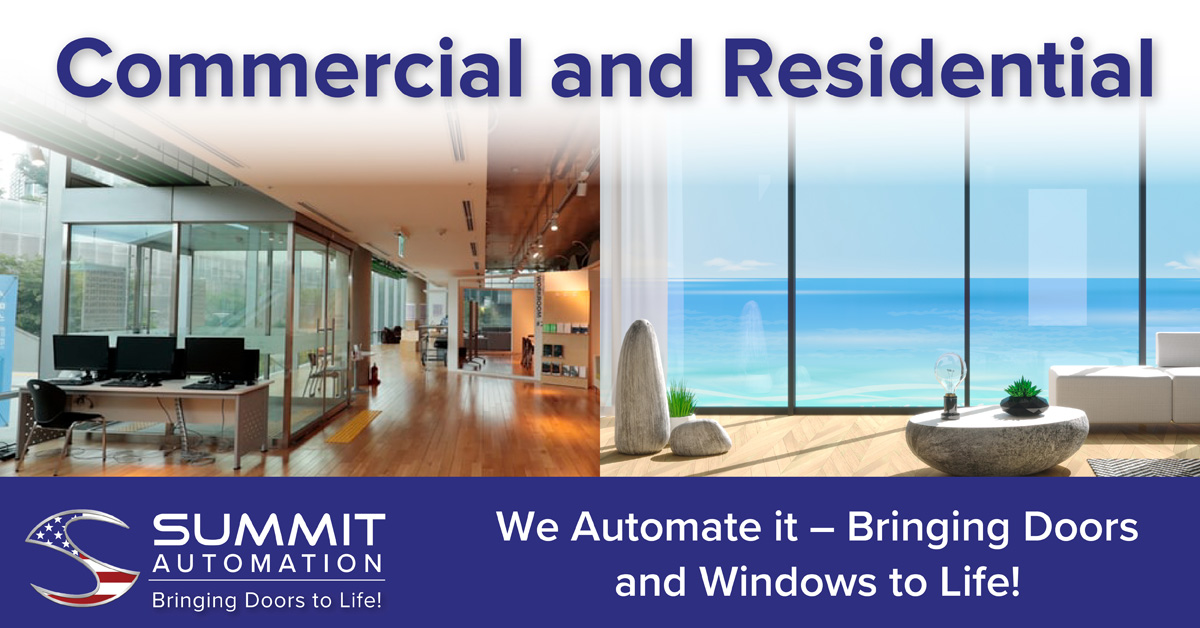 Home Automation Trends
Home automation adoption is gaining speed and acceptance. Here are the 12 hottest recent trends in home automation:
Ease of Use: Home automation is no longer only for the most technical among us. Today's home automation is easy to use by practically anyone.
Integration: Connected devices communicate with each other and our smartphones, and they share information seamlessly, thanks to the Internet of Things (IoT).
Artificial Intelligence: Home automation devices are smarter, and understand and interpret its users' intentions through a variety of actions including voice commands and hand gestures.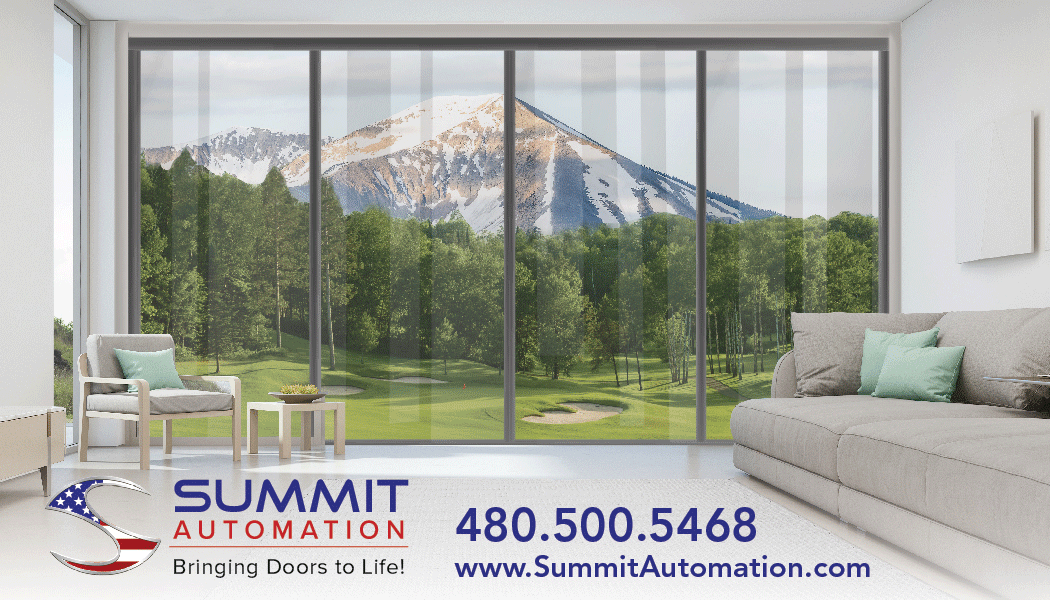 Touchless: The COVID-19 pandemic accelerated the need and development for touchless technology. Many home automation devices can recognize authorized faces and voices, while others activate automatically when needed (for example: touchless doorbells and cameras).
Smart Thermostats: Following the fast adoption of smart speakers, smart thermostats have been the one of the most adopted home automation devices.
Tech-Based Fitness: The pandemic also increased the use of smart in-home exercise equipment that is often connected to other users and trainers.
Home Office: From noise cancelling windows to virtual video conferencing backgrounds, companies have been developing many smart devices and programs that make working from home more convenient than ever before.
High-Speed Internet: Internet Service Providers (ISPs) are offering faster speeds than ever before, and mesh Wi-Fi devices make it possible to watch movies (as if you were in a theater) and work from home (as if you were in the office or at a client's office).
High-Tech Security: New devices let us check on the safety of loved ones, as well as our homes, from anywhere with interconnected devices and smartphones.
Privacy: Today's smart devices are more secure and protect the privacy of their users.
Solar Energy: Solar energy is gaining popularity due new hassle-free power management and savings.
Lifestyle: Discriminating tastes demanded – and the industry delivered – easy-to-operate automated doors and windows. Today's automated systems can lock, unlock, open, and close windows and doors with a variety of controls including, touchpads, voice commands, hand gestures, smartphones, and more.